FROM FADING GLORY TO UNPRECEDENTED SUCCESS
Now a common fixture of the entertainment events scene, fandom conventions were once related to the niche market of the "nerd's nerds" of many cliches and comedic skits. Now, in the era of massive mainstream successes and presence for the likes of Marvel Studios, Star Wars, Games of Thrones, Harry Potter and and endless array of peer franchises and adjacent media and products – these events are a massive, mainstream market of their own. Almost any city, town, or region enjoys at least one or two "comic cons" per year, with some major locations establishing the pinnacle of success with major industry support and millions of dollars in sponsors and revenue.
Drawing anywhere from several hundred to tens-to-hundreds of thousands of attendees, industry members, vendors and celebrity guests, there is almost no weekend in America in which a convention for popular culture and arts isn't gathering nearby. (The only exception being the pandemic years, which have unfortunately eliminated some events based on financial disruption or the fatigue of production in a more complicated era.)
After many years of the "old days" in which quiet, literature-focused events gathered a couple-hundred like-minded people, one such event was on the path to quiet departure from the community. Hypericon, an independent, nonprofit "speculative fiction" conference, had seen its attendance reduced to just 100 or so by 2015, and would not be able to sustain in the face of skyrocketing Nashville venue costs, and a fading popularity of traditional print and linear media. It was time for a change, but a careful evolution with inclusion and respect to the event's roots and charitable mission, and a pivot toward a more thriving, vibrant offering.
To meet the challenge, the founders and board members of Frontiers Nashville, the nonprofit organization producing Hypericon, chose evolution over extinction and recruited Lucas Leverett to their board to help reshape the entire entity, top to bottom. With his background in nonprofit arts management, event production, design, branding, marketing and more – and given the huge successes of his previous related projects (MTAC, GMX, Nashville Maker Faire, and the Nashville Zombie Walk) – he was the top geek for the job.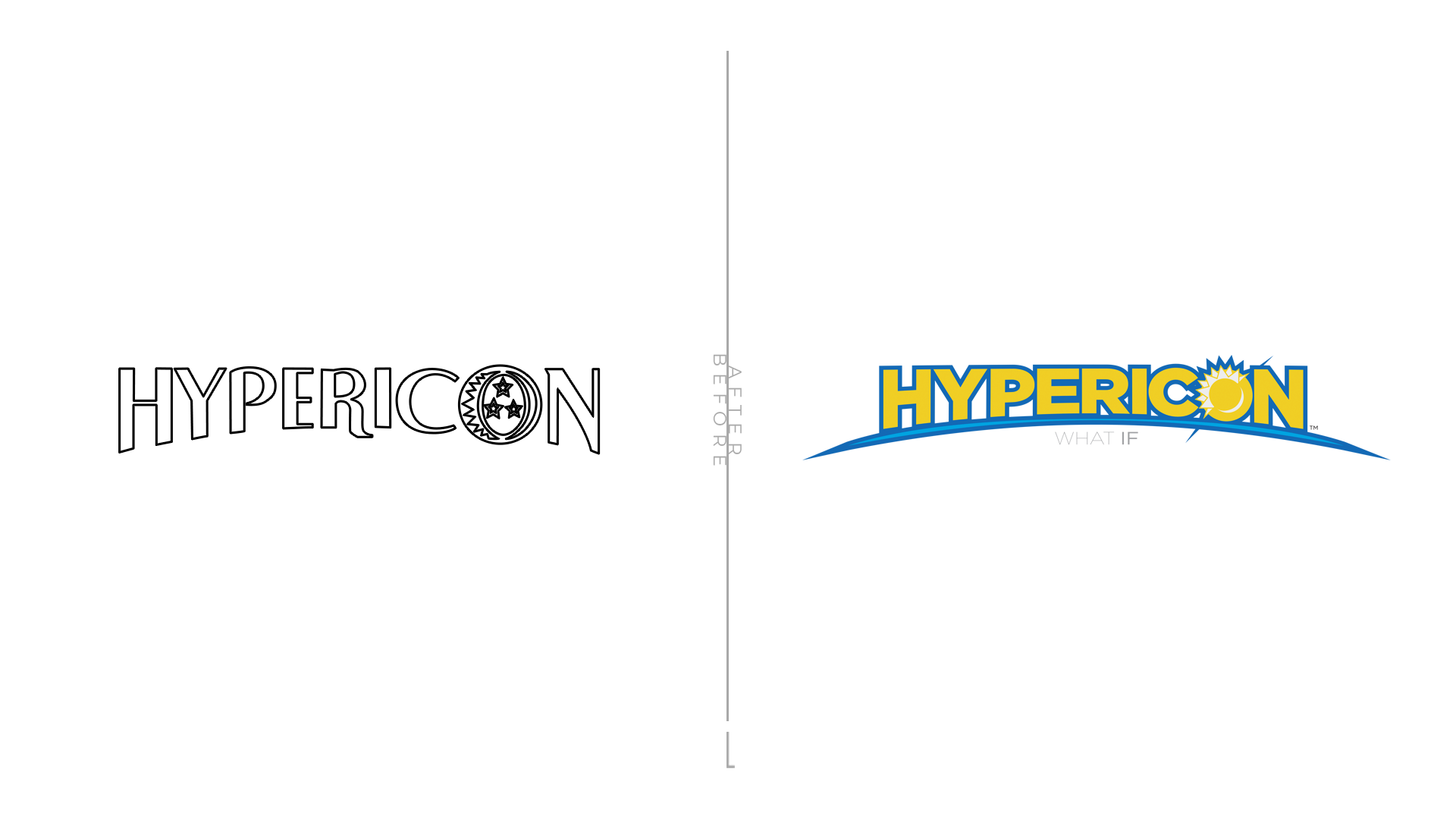 Not only was I honored to be asked to come "to the rescue" and revitalize Hypericon, it gave me the opportunity to continue my vision for a community that I was part of helping to create in the Nashville region. After many years of friendly market-sharing with the Hypericon team, and much awareness of their challenges, it was energizing to be involved in the creation of a new era.
We rebuilt the brand from the ground up, while honoring the history of its look and feel within a modern context. New principles for brand experience quality, new livery and copy, definitive and structured brand standards, structured operational practices, budgets and a few bold risks spelled success with a drastic 5x increase in both attendance and awareness.
Through collaborative reinvention, we banished the dated term "speculative fiction" in favor of the much more visionary "What If" – riffing on a legendary comic title and boiling down the concept to a more common, modern phrasing.
The event moved into bigger, more ideal venues, recruited more serious and desirable guests for appearances and panels, diversified into a robust programming lineup and vendor/exhibitor offering, pushed the envelope of creative and inventive experiences, brought on more talented staffers, utilized details and meticulous venue space planning, and revolutionized the concept of lifetime memberships and crowd-funding support.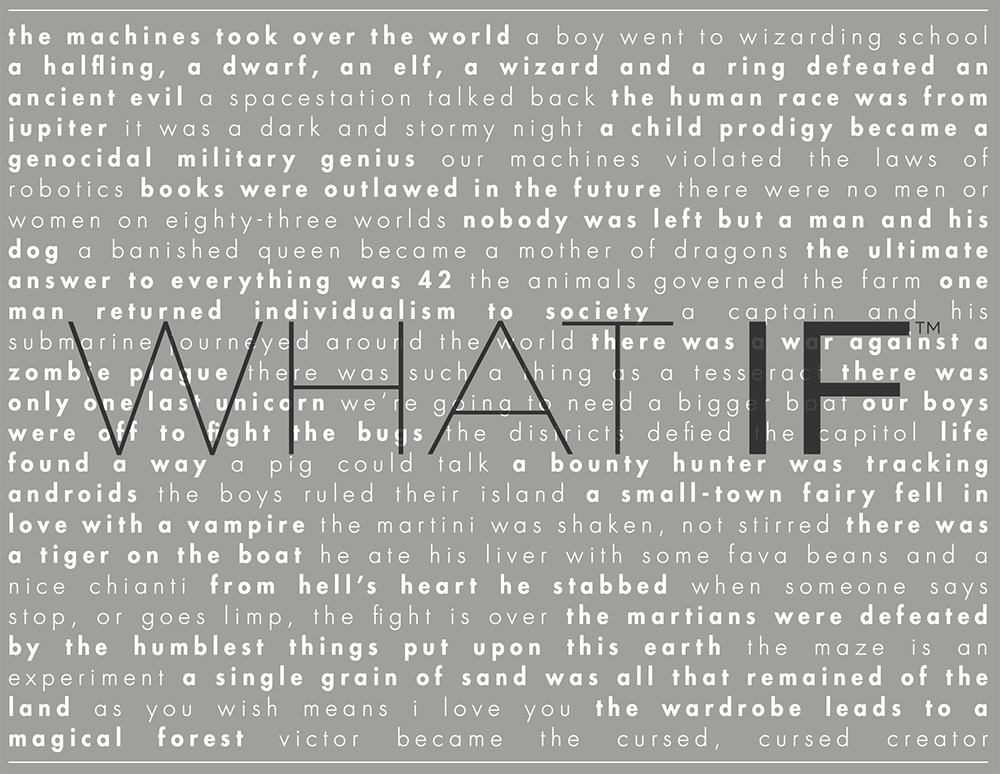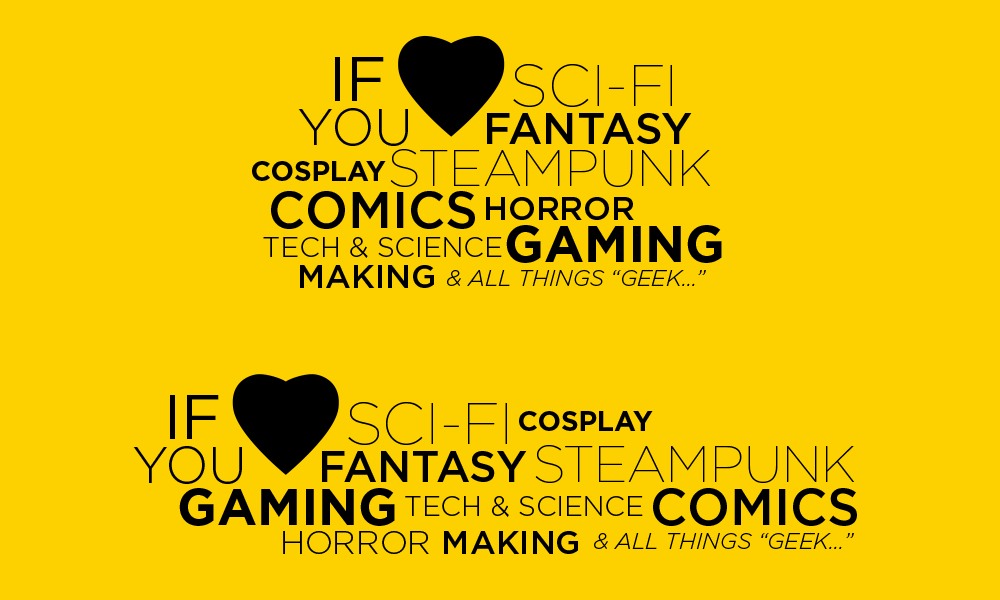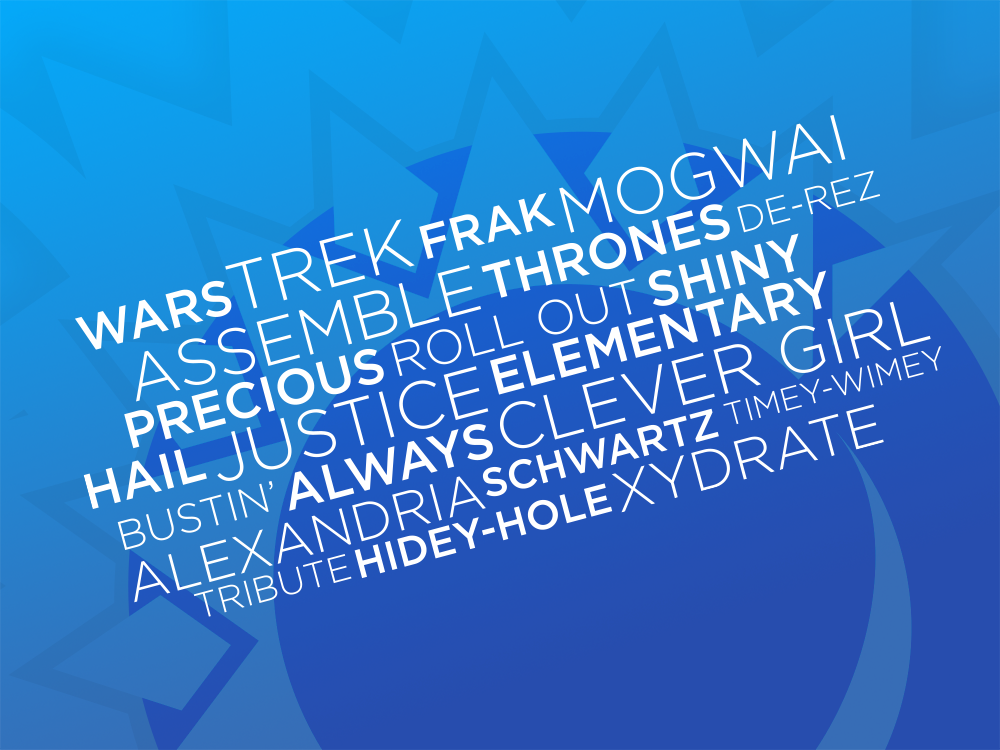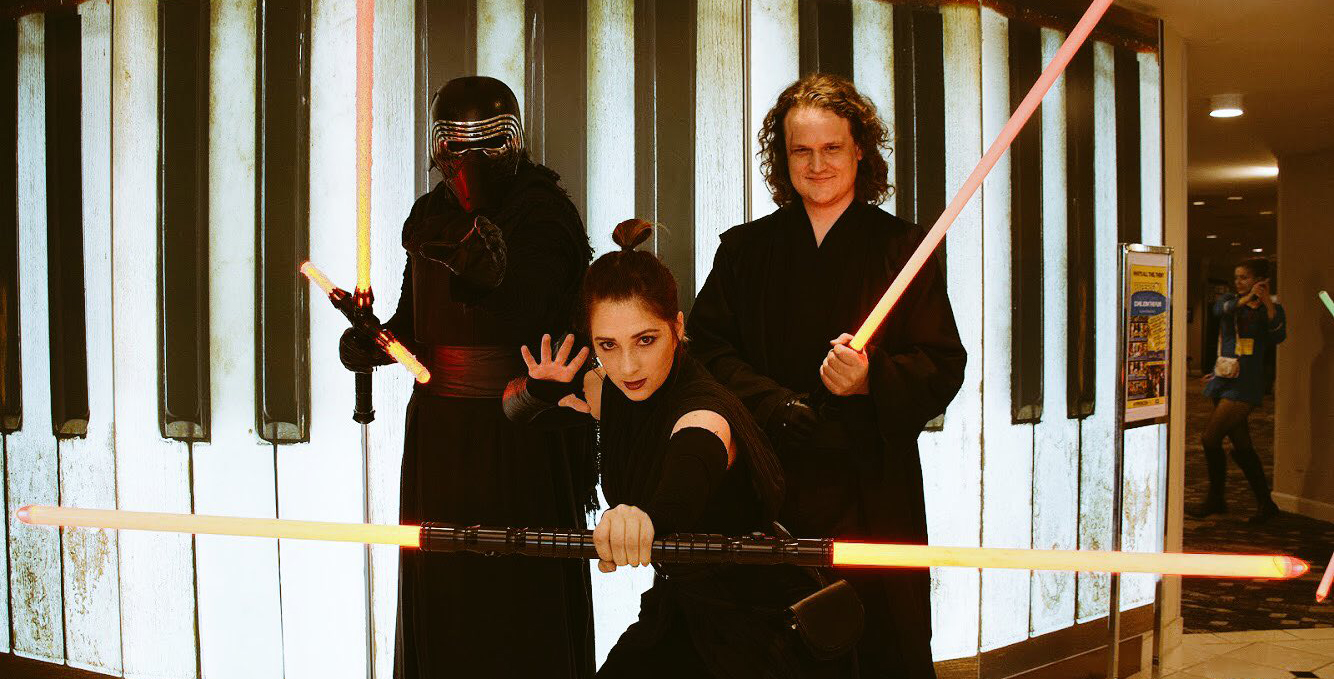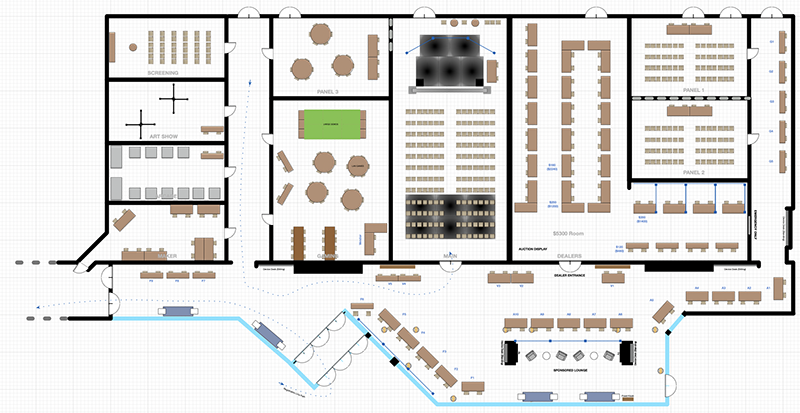 PROMOTIONAL IMPACT IN A CROWDED MARKET
Digital and physical media carrying these solid brand standards, eye-popping designs and compelling copy/messaging gained momentum and earned results in a market that was quite saturated with similar events. Related merch, collateral and onsite promotional booth engagement joined with these to create a polished ecosystem.
Where no comic con had gone before
One of the huge partnerships developed to promote Hypericon was the alliance forged with the Barnes & Noble store at Vanderbilt University. No event had successfully landed a tightly coordinated retail promo effort before, and none have since, in the region.
Mandatory insertion of collateral in customer's bags, large signage on the floor, graphics along all shelf fronts in relevant sections of the store, take-one displays and special events for recruitment of volunteers as well as mini-events all played a part in this arrangement that not even multi-million-dollar touring shows enjoyed.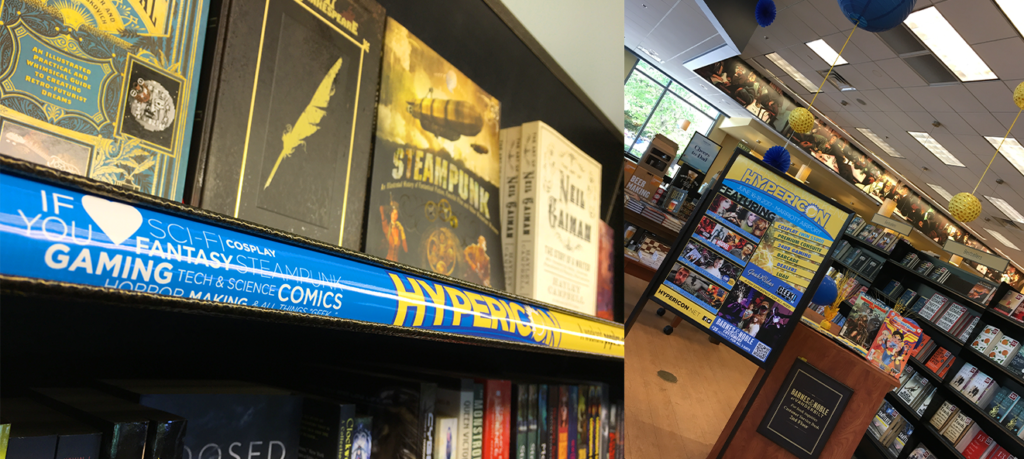 SERIOUS FUN, SERIOUS PITCH
With an abundant opportunity to the community as well as the larger landscape of brands, it was time to give a solid pitch to prospective sources of underwriting and sponsorship. The Hypericon sponsor deck was another unprecedented step in the locally-produced event scene, landing relevant peers and big-name backers.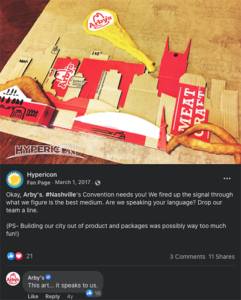 With the social mission of literacy as a core value, and "geek media" as a bridge to reaching young minds and hearts, this collateral piece connected the narrative of all aspects of this breed of event.
Setting sights on even bigger brand integration, Lucas gained the attention of Arby's by speaking to them from the Hypericon social media accounts, in a language they had been highly celebrated for crafting – via imagery made up of their own products and packaging. The resulting conversation created a new space in which the brand began to engage in the fandom market through event partnerships.
For most of these brands, a small, growing convention in Nashville Tennessee was the first time they had been approached by a genre event – a testament to taking big swings and envisioning big concepts.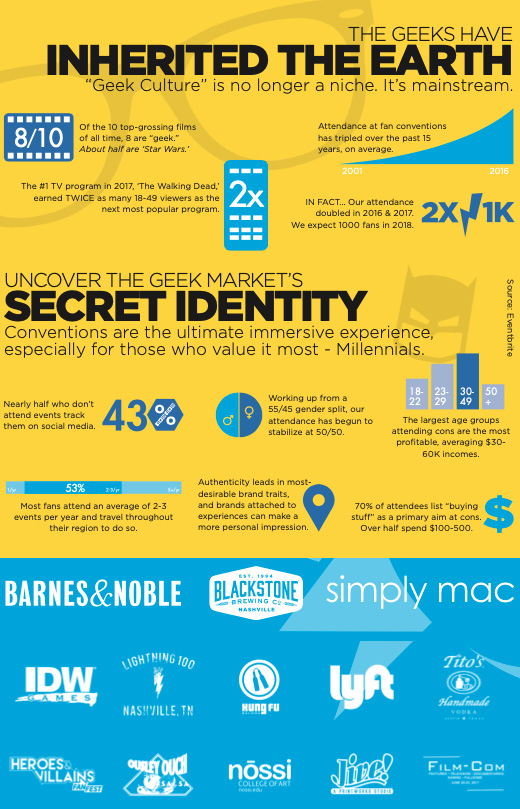 A FAN-FUNDING BREAKTHROUGH
We've seen it all in many spaces. Grassroots funding drives like GoFundMe and mega-expensive ticket costs were the way of yesterday in event budgets. As a pioneer of regional fandom, Lucas "wrote the book" on affordable access for fans as well as "lifetime membership" practices. It was time to re-write that book for Hypericon.
A new breed of lifetime concept was conceived to offer more flexibility to the fan, infinitely transferrable (for a fee, delivering a repeat revenue opportunity), with cool premiums such as a laser-etched steel badge, collector's case, and certificate. The Infinity Membership, lifting a buzzy name from the popular Marvel storyline, exceeded sales performance of similar inaugural offerings from other in-market events.
But that wasn't all. It was time for a crowd-funding revolution. The Infinity Membership was also offered to a select and limited roster of fan investors, via the Infinity League a short-term loan with an investment return, and permanent honors as a contributor. Themed on the Infinity Gauntlet, with a premium gift for each stone color, these sold out and were expanded to include an additional double-enrollment slot as "the gauntlet."
Based on this incredible success, the 8-slot concept of the League was given a sequel – The Fellowship of Infinity – leaning on Hypericon's literary roots with a Tolkien theme and a 9-slot roster.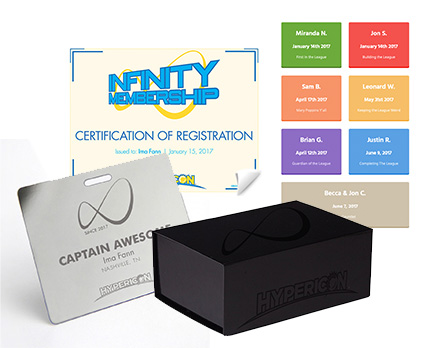 With the changing social landscape, using in-person mascots or spokesmodels for events had fallen out of favor, compared to the previous eras of fandom culture. Despite huge successes and impact with such in past events, the needs and climate called for a much more flexible characterization. It came into being in the most unlikely but appropriate way: a balloon critter, created at a another fan convention, by the late, great Doc Osborn.
The basic idea for a dragon mascot, aptly named "Hype," took shape. He would be an indispensable resource in promotional designs and rounding out the all-ages, "something for everyone" playfulness of the event. Celebrated illustrator and storyteller James Barry was enlisted to create the characterization and art, and the rest was a… a puff of magic.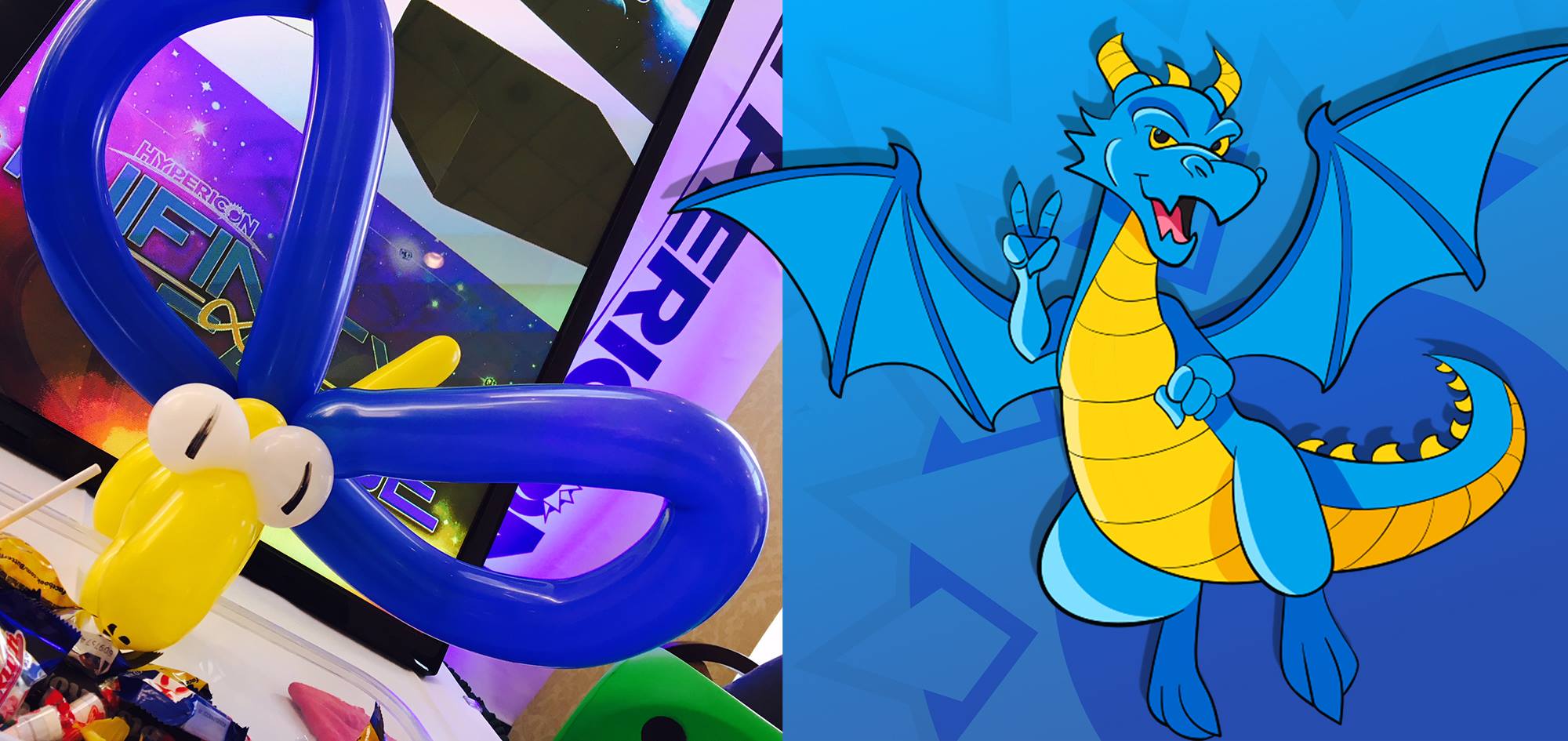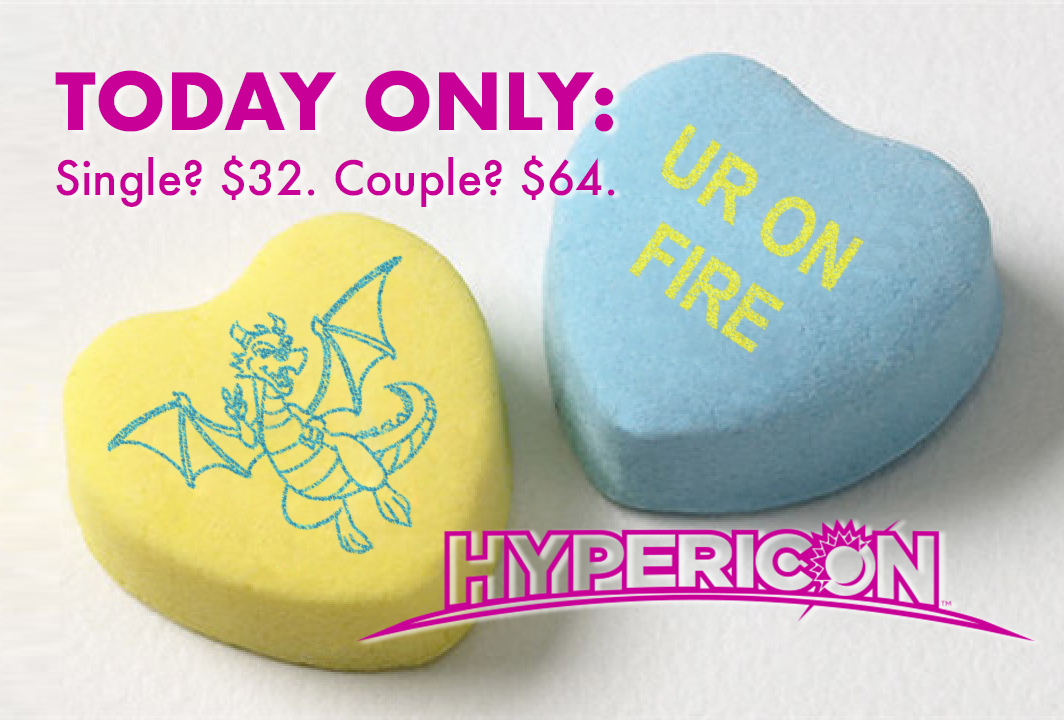 In social media, Hypericon was able to make huge strides to adopt best practices and lean into memes and trends, while using the full suite of assets, such as Hype the Dragon. Popular media, holidays, events such as the eclipse… all providing ample opportunity to attach the brand to goings on.